In the beginning of January, we published a series of posts on social media about severe weather in 2019. This blog puts together this information and graphics, and provides an overview of the most prominent severe weather events of the year.

2019 was a comparatively active severe weather year. ESSL received 3275 reports of large hail as well as 12 027 severe wind gust reports, 792 reports of tornadoes and 3924 of heavy rain. This year has the highest number of large hail and heavy rain reports since the ESWD was established in 2006, and it was exceptional especially regarding the large hail. For example, more than 96 hail-related injuries were reported with 15 hail events, while hail injuries were reported only 96 times in the whole history of the database. In addition, 14 events included giant hail, reaching or exceeding the size of 10 cm. Further fatalities and injuries were reported with severe wind gusts: 66 and 414, respectively.

Tornadoes caused 3 fatalities and 97 injuries and were reported mostly near the coasts of the Mediterranean Sea. 531 out of 792 tornadoes occurred exclusively over water, and can thus be called waterspouts. There were 28 strong tornadoes during the year, of which 27 were rated F2 and 1 F3. Heavy rain caused 145 fatalities and 77 injuries. Most of the reports came from Central Europe and from Italy.

In total, severe weather killed 394 people and 1112 people were injured during 2019. Most of the fatalities were attributable to heavy rainfall, followed by avalanches and lightning. Most of the injuries were caused by severe wind gusts, followed by lightning and hail. While heavy rain comprised 37% of all fatalities, it contributed to only 7% of injuries. Tornadoes caused about 1% of fatalities and 8% of injuries. This shows how differently the impact of severe weather phenomena can be.
Below, you can find a list of 10 major severe convective storm events across Europe in 2019. Please note that this overview was selected subjectively by the ESSL staff and is not an exhaustive list of all major severe weather events that occurred in Europe in 2019.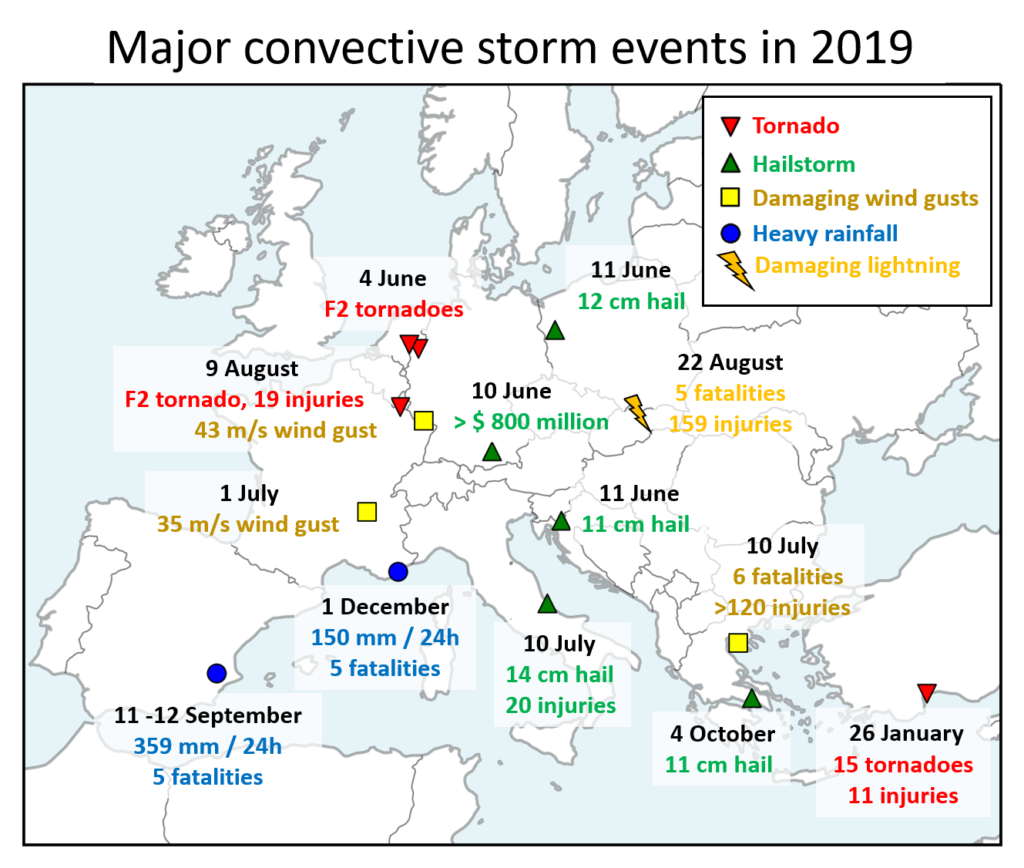 26 January: Tornado outbreak over Turkey

The year started with an active severe weather period over the southeastern Mediterranean. On 26 January 2019, a local outbreak of tornadoes occurred over southern Turkey. 15 tornadoes were reported in total, two of which were rated F2. One of the strong tornadoes struck Antalya airport around 8 UTC, overturning a bus with passengers that resulted in 11 injuries. Numerous videos of this event appeared online. Besides tornadoes, storms also produced hail up to 4 cm in diameter over the land, damaging crops and cars.

4 June: Convective windstorm and tornadoes over western Germany and the Benelux

On 4 June, first thunderstorms formed over northern France in the late afternoon and quickly moved northwest, forming a large convective system. A swath of severe wind gusts was reported over Benelux with the highest measured gust of 30 m/s. In addition, several tornadoes occurred including two strong, F2 tornadoes: one in the Netherlands and one in western Germany.

10 to 11 June: Damaging hailstorms

10 June marked the beginning of an active period of severe weather over many parts of Europe. The most notable event on 10 June was a hailstorm that struck parts of Munich in the afternoon hours. Wind-driven of hail up to 6 cm in diameter, caused extensive damage to hundreds of cars and roofs. This event is set to be the most costly thunderstorm-related loss in 2019, with estimated losses of $ 800 million.

One day later, severe weather activity continued, and while no major economic losses were reported like the day before, the storms produced even bigger hail. Giant hail was reported from two locations: From the border of Slovenia and Croatia (up to 11 cm in diameter) and across western Poland (up to 12 cm in diameter). For Poland, this marked the largest documented hailstone.

1 July: Widespread severe weather over Europe

372 severe weather reports were collected in a belt from eastern France through Switzerland, northern Italy, southern Germany, the Czech Republic and Poland into Ukraine, making this day perhaps the most widespread severe weather outbreak of 2019 over Europe. Severe storms produced numerous reports of large hail, up to 7 cm in diameter and severe wind gusts. Such large hail was reported both in France and the Czech Republic. The strongest wind gust speed was measured to be 35 m/s in eastern France. Five people were injured by gusts in France and six in Italy, where the severe wind also caused one fatality.

10 July: Damaging wind gusts and giant hail over Italy and Greece

This was the last of a multi-day outbreak of severe storms over Italy and parts of the Balkans (more information on the whole outbreak can be found in a previously published blog post). On this day, severe thunderstorms had already formed over Italy during the morning with two tornado and several severe wind gusts reports. Shortly after 10 UTC, giant hail, up to 14 cm in diameter, was observed over the town of Pescara in the region Abruzzo, Italy. The hail that was combined with severe wind gusts injured 20 people. Further hail and severe wind gusts were reported across Italy later in the day.

Injuries were reported also with storms that impacted Greece during the afternoon. However, the most severe event unfolded in the evening around 19 UTC, when a storm system that had travelled hundreds of kilometres from Italy, rapidly strengthened as it crossed the Aegean Sea and hit the Halkidiki peninsula. There, 6 people died and more than 120 were injured due to the severe wind gusts. Many of the injuries resulted from loose outdoor furniture being flung into groups of tourists seeking shelter.

9 August: Severe wind gusts and tornadoes over western Europe

Severe storms occurred in a belt from southern France to the northern Netherlands. Severe weather began in the afternoon after 14:00 UTC with severe wind gusts and large hail over northern France. The most severe period occurred between 15 and 16:30 UTC with isolated supercells producing swaths of wind damage, including an F2 tornado that crossed from France into Luxembourg and caused 19 injuries in the town of Pétange, Luxembourg. Over eastern France, two weather stations clocked the wind gust measurements of 35.8 and 42.7 m/s. Later on, two F1 tornadoes were reported from the Netherlands between 19 and 20 UTC. One of them occurred directly in the centre of Amsterdam.

22 August 2019: Deadly lightning strikes in Poland and Slovakia

Weak thunderstorms formed over central Slovakia during the morning hours and moved towards the High Tatras mountains on the border between Slovakia and Poland. Hundreds of hikers were caught unprepared by the storm, resulting in a total of 5 fatalities and 159 injuries. The worst lightning strike was reported from Mt. Giewont in southern Poland with 4 fatalities and 156 injuries. People were knocked down from the mountain or received burns as they held on the steel cable supporting them on the steep ascent to the mountain. Rescue efforts continued till the late night. 1 person died and 3 were injured on the Slovakian side of the Tatras. The Mt. Giewont lightning strike set the record for the highest number of directly-caused lightning injuries in the ESWD.

11 – 12 September 2019: Flash floods over Spain

Within an easterly onshore flow bringing moisture rapidly inland, a quasi-stationary convective line formed over València in the late-night hours of 11 September 2019. After hours of extremely heavy rainfall, flash flooding followed in the morning of 12 September. By 03 UTC on 12 September, 359 mm of rain fell at the Benniarés station with a maximum 6 hourly sum of 191 mm. Station Ontinyent reported 296 mm of rain by 05 UTC, with 242 mm falling since midnight. 5 people perished during the flash floods, which brought widespread disruption to the region and left several settlements completely flooded. Besides heavy rain, an F1 tornado was reported shortly after midnight on 12 September.

4 October 2019: Giant hail over Greece

While large hail is not unheard of during the autumn over the Mediterranean, flash floods are usually the dominating risk of severe storms during that time of the year. However, on 4 October, a supercell that tracked over the Attica region, Greece, produced an impressive swath of large hail. Giant hail up to 11 cm in diameter was reported from 3 different villages. Of course, cars, roofs and windows were badly damaged by this storm.

1 December 2019: Flash floods over southern France

December did not start well for some in southern France. After high amounts of rainfall in the past period, another round of heavy rainfall led to flash floods that severely impacted the Provence region. Weather stations reported 130 – 150 mm of rainfall falling during the day. While such amounts are not too high for the given region, previous rainfall exacerbated the situation. The flash flooding resulted in 5 fatalities and many people had to be evacuated from their homes.