Dr. Harold E. Brooks receives the 3rd Nikolai Dotzek Award.
At the occasion of the 8th European Conference on Severe Storms that was held in Wiener Neustadt, Austria, Dr. Harold E. Brooks (National Severe Storms Laboratory, Norman, Oklahoma, USA) has been awarded the 3rd Nikolai Dotzek Award.
The Nikolai Dotzek Award was established in 2011 in the memory of ESSL's first director and founding father, Dr. Nikolai Dotzek, who passed away in May 2010.
Dr. Brooks has been given the award for his innumerable and diverse contributions to the science of severe storms, which among many other accomplishments, include
his pioneering work in developing and applying proxy parameters to assess the climatology and risk of severe storms, both regionally and globally.
his contributions in establishing the connection between vertical wind shear in the lower troposphere and the occurrence of tornadoes.
his extensive work and significant progress on verification methods for forecasts of extreme events.
In addition, Dr. Brooks was commended for his support to the European and international communities of severe storm researchers that has resulted in many fruitful collaborations.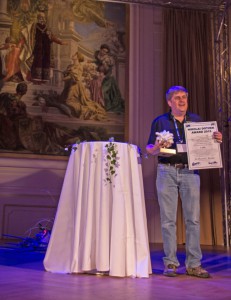 A list of all Nikolai Dotzek Awardees is available here.