Online Workshop
Dates: 24 – 26 November 2020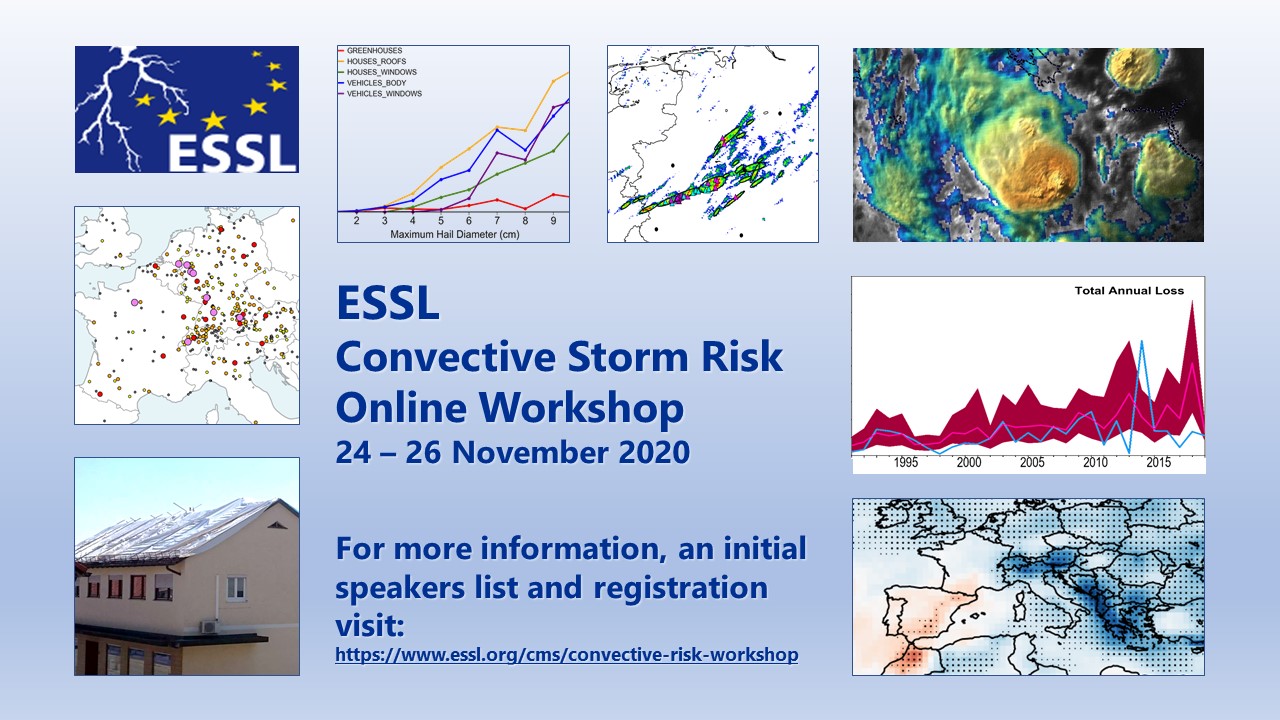 ESSL researchers and external experts will organize a two-and-a-half day event on various aspects of the risk posed by convective storms. Presentations will be given about the following topics, and additional topics may be added:
Tomáš Púčik (ESSL): The ingredients of severe convection
Tomáš Púčik (ESSL): Impacts of hailstorms in Europe
Thilo Kühne (ESSL): Severe weather data collection in the ESWD
Bogdan Antonescu (ESSL): European climatology of observed severe convection and its impacts
Tomáš Púčik (ESSL): Convective windstorms in Europe
Pieter Groenemeijer (ESSL): Modelling severe convective hazards using reanalyses
Pieter Groenemeijer (ESSL): Looking forward: Severe Storms and climate change
Bogdan Antonescu (ESSL): Tornadoes in Europe. What is the worst that could happen?
Mateusz Taszarek (NOAA): Past trends of convective storms in Europe and the USA
Tanja Renko and Michou Baart de la Faille (DHMZ, KNMI): Risk mitigation: Severe weather warnings
Eberhard Faust and Anja Rädler (Munich RE): Mitigation of severe convective storm risk
Jürgen Grieser (RMS):
A European Severe Convective Storm Loss Model for the Insurance Industry (to be confirmed)
The event is directed at academics, students, risk modellers and reinsurers.
Participants are invited to give a presentation themselves about any of the above topics or closely related topics in coordination with the organizers. Contact pieter.groenemeijer@essl.org to make a suggestion.
The following speakers and presentations have been confirmed:
Registration
The event is scheduled to take place during the following times:
Tuesday 24 November 9:00 – 16:30
Wednesday 25 November 9:00 – 16:30
Thursday 26 November 9:00 – 12:00
Each day will include a number of breaks, including a long lunch break from 12:00 – 13:30.
Registration
To register, please fill in the registration form and proceed to pay the registration fee by clicking on the applicable amount below. Your registration is fixed after having received your participation fee and after confirmation from ESSL. See ESSL Terms and Conditions.
Prices for course
(click on amount to pay by credit card)
Fee


ESSL members and employees of institutional ESSL members
EUR 300
Non-ESSL members
EUR 350
BANK TRANSFER
You may pay by bank transfer to the following account:
| | |
| --- | --- |
| Beneficiary: | European Severe Storms Laboratory – Science and Training |
| Bank: | Sparkasse Baden |
| Bank address: | Hauptplatz 15, 2500 Baden, Austria |
| SWIFT BIC: | SPBDAT21XXX |
| IBAN: | AT522020501000005999 |
With your transfer, please indicate "Satellite course fee" and your name.
(without indicating your name, we cannot make sure that the transfer came from you).
To register, please visit the following link.