ECSS 2013


7th European Conference
on Severe Storms

Helsinki, Finland
3 - 7 June 2013
Venue: Scandic Marina Congress Center




Organized by:
Welcome to the ECSS 2013 Conference website. Here, you will all available information regarding the scientific programme of the conference. This website will continue to be updated.
Latest news:
- The Conference Programme is now available online and as pdf-document (a printout of which will be handed out to all participants).
- Follow our daily ECSS on site activities here.
Venue, Social Events, Hotels
On the ECSS 2013 Website of FMI, you can find details about the Scandic Marina Congress Center, the Social Programme and Lodging options (hotels and hostels). Reservations for the hiking trip to Nuuksio National Park and the Bus and Boat Tour through Helsinki and the Suomenlinna Fortress can be made on the registration page.
Registration
Please register for the conference here.
This is where you can also register for the Conference's Social Events and buy additional tickets for the Ice Breaker and the Conference Dinner.

These are the prices for the Conference (including the Ice Breaker and the Dinner):
| | |
| --- | --- |
| Payment date | Fee |
| Early (until 1 March): | € 390 |
| Normal (before 1 May): | € 450, reduced: € 400* |
| Late or on-site (1 May or later): | € 490, reduced: € 450* |
* The reduced rate applies to ESSL members, employees of institutional ESSL members, members of EMS member societies, official voluntary storms spotters of ESSL, and students.
Abstract submission
Abstract submission is now closed.
Extended Abstract / Conference Paper submission



Extended Abstract / Conference Paper submission is now closed.

Oral presentations and Posters
At the conference, there will be oral presentations of 12 minutes each (plus 3 minutes for questions) and two poster sessions. Poster Board width is 95 cm and height 160 cm. We recommend to prepare your poster in portrait A0 format. Poster presenters are requested to hang up and especially remove their posters in time. Please see the Poster Programme Overview below for details.
Those delivering oral presentations are asked to take note of these Oral Presentation Guidelines (pdf).

Programme
The full conference programme can be found here.
Travel Grants and Awards

The application for travel grants and awards is closed. The persons who have been selected for travel support have been informed.
Oral pogramme overview

Oral presentations are indicated by the abstract number and first author.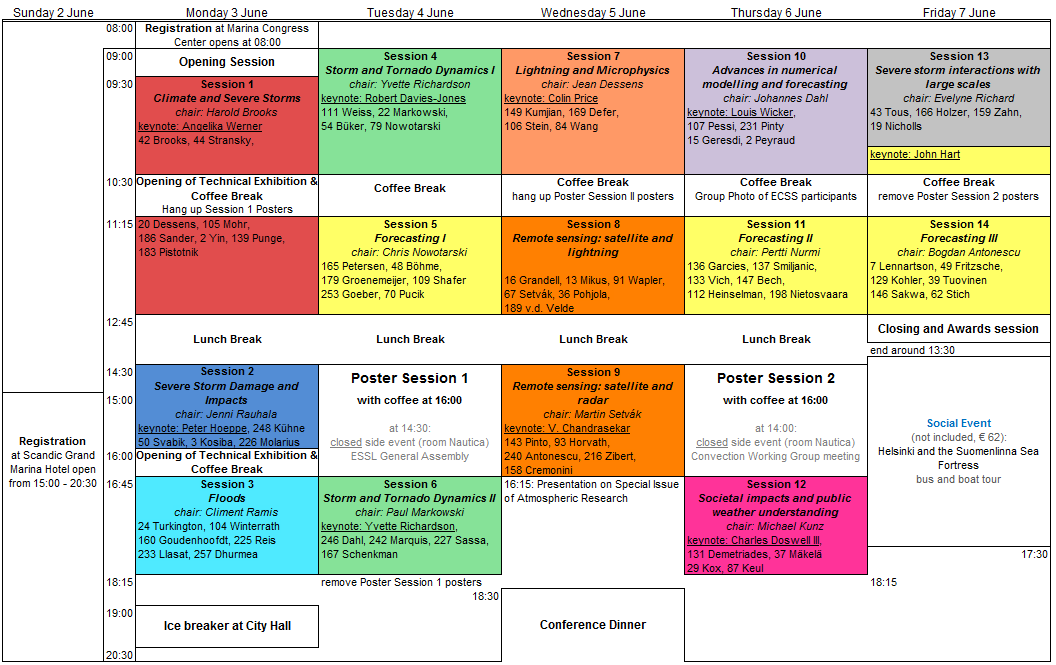 Poster programme overview

The table below lists the allocation of the posters to the respective Poster Sessions. The posters are listed with their abstract number and the first author's last name.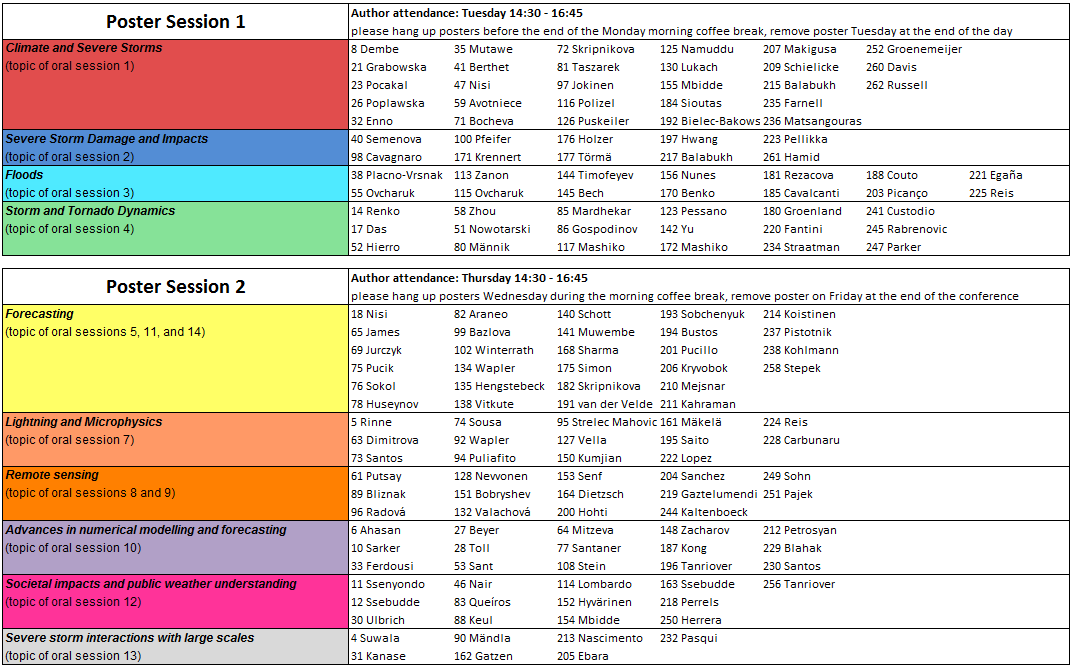 Time plan
15 June 2012


First Announcement

1 Oct. 2012


Second Announcement




Abstract submission opens




Early registration begins

10 Jan. 2013

Abstract Submission deadline

30 Jan. 2013


Grant decisions

15 Feb. 2013

new date:
20 Feb. 2013


Notice on abstract acceptance

2 Mar. 2013


Normal registration begins

1 May 2013


Deadline for Extended Abstracts




Late registration begins

15 May 2013


Conference programme available

2 June 2013


Registration desk opens

3 June 2012


Opening of the conference
Scope
The scope of the conference covers all aspects of severe convective storms. Researchers, operational forecasters, and risk and emergency managers are invited to submit contributions. In light of the global relevance of the conference themes, participants from all over the world are encouraged to attend. These are the conference topics (and tentative session titles):
Impact of storms on society, impact mitigation

Convective storm and tornado dynamics

Numerical modelling of storms; storm-scale data assimilation

Interaction between convective storms and extratropical, Mediterranean, and tropical cyclones

Floods and flash floods

Forecasting and nowcasting of severe weather

Remote-sensing of storms (e.g. satellite, radar, lightning detection)

Storm electrification; lightning; microphysics; hail

Storm climate, risk assessments, and climate change

Collection of storm data; damage assessment
Scientific Programme Committee
The Committee is chaired by Harold Brooks (National Severe Storms Laboratory, USA).
The other Committee members are:

Pieter Groenemeijer, European Severe Storms Laboratory, Germany (vice-chair)
Jenni Rauhala, Finnish Meteorological Institute (vice-chair)
Johannes Dahl, North Carolina State University, USA
Jean Dessens, Anelfa, France
Michael Kunz, Karlsruhe Institute of Technology, Germany
Elena Saltikoff, Finnish Meteorological Institute
David Schultz, University of Manchester, U.K.
Martin Setvák, Czech HydroMeteorological Institute
Climent Ramis, Universitat de les Illes Balears, Spain
Evelyne Richard, Laboratoire d'Aérologie/CNRS, France
Yvette Richardson, Pennsylvania State University, USA
Contact
For questions about local arrangements, you may contact the Local Organizing Committee at ecss at fmi dot fi. Please make sure that your question is not answered on this page or on the ECSS2013 Website of FMI. For questions about the registration for the conference or general questions, please contact ESSL's Conference Secretary, Ms. Magdalena Pichler, at ecss at essl dot org.
The ECSS 2013 Conference is made possible by